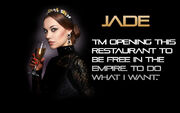 Welcome to the Alliance Empire Wiki!
In the 27th century, the Alliance Empire, an alien culture created by author Alma Nilsson, live 620 light-years (190 pc) from Earth in the constellation of Cygnus but still rule the galaxy.
Important articles
[
]
Need help building out this community?
You can also be part of the larger Fandom family of communities. Visit Fandom's Community Central!
Community Founders: Write a good and paragraph-length description for your welcome section about your topic. Let your readers know what your topic is about and add some general information about it. Then you should visit the admin dashboard for more tips.