Childhood
[
]
Babette was born on Earth and grew up in Mississippi. Relatively little is know about her upbringing and early year.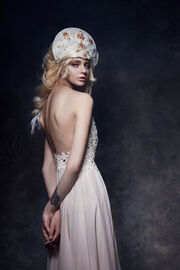 Adulthood
[
]
When we first meet Babette she is a shop assistant living a rather uncomplicated life. The she is somewhat affected by the subliminal messages in the Alliance advertisements for new women. Something is not quite right as she is clearly not affected the same way as the other women but despite this she is accepted among the first 1000 women that go to the Alliance.

Religion
[
]
Babette falls in love with Mir who happens to be one of the Gods reincarnated - the God of Peace to be precise. This is somewhat troublesome as he needs to find his true other half and a failure to do so would bring misery to the Alliance. People are naturally skeptical of Babette as she is a human and accepting her as the true half of Mir would also prove that the myth about the Lost People is true. For the reader it is clear that she is the true half of Mir in Book 3 but it is not clear until later that she is also herself a reincarnated Goddess, Sif.

Relationships
[
]
Babette travels to the Alliance together with Jade, the chef and lead character of Book 6. They actually meet already in the queue to apply to travel to the Alliance and become instant friends and Jade ends up being an intricate part and participant in Babette's wedding to Mir.